The first non-contact systems for applying coating colour and emulsions with a barrier effect on paper or cardboard had to be withdrawn from the market for a variety of reasons, but mainly due to the inefficient deaeration of the coating. Here, the deaeration of coating colours turned out to be the essential process step.
GAW Airvent
The GAW Airvent is a cyclone deaerator used for deaerating media, dispersions, emulsions and coating colours.
The GAW Airvent uses the centrifugal force created by the tangential inlet and rotational movement of the fluid inside the cyclone. The part of the medium with a high number of air bubbles (and thus low density) forms into a core and is withdrawn upwards via a central vent nozzle. The part of the medium with lower air content (and thus higher density) migrates to the outside and is discharged through the bottom of the cyclone.
The GAW Airvent consists of a variable number of cyclones, which can be switched on or off with ball valves according to the respective coating colour consumption. The cyclones are constructed with inlet and outlet pipes on a frame. Each cyclone has a separate channel valve for cleaning and emptying.
Depending on the volume flow or the proportion of air in the medium, the necessary number of cyclones can be switched on or off during operation. The optimum setting is made via differential pressure measurement; coriolis or radiometric measuring instruments on the drainpipe allow efficient operation of the GAW Airvent.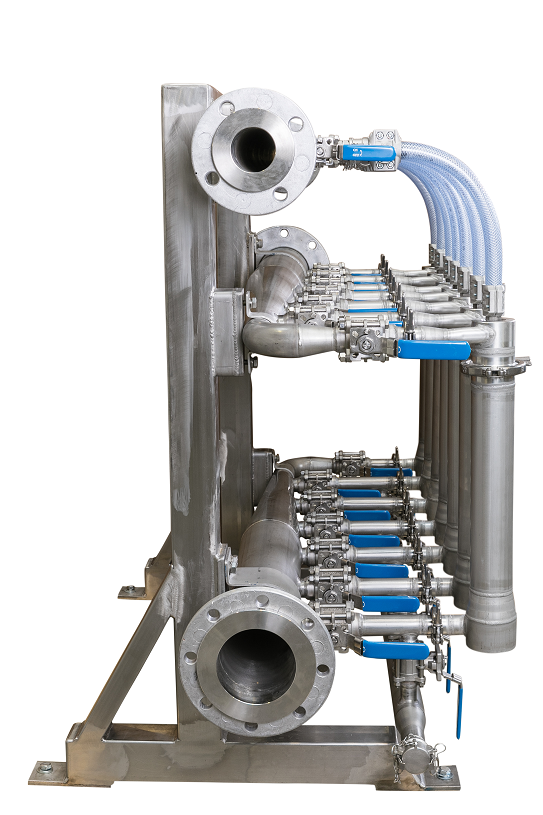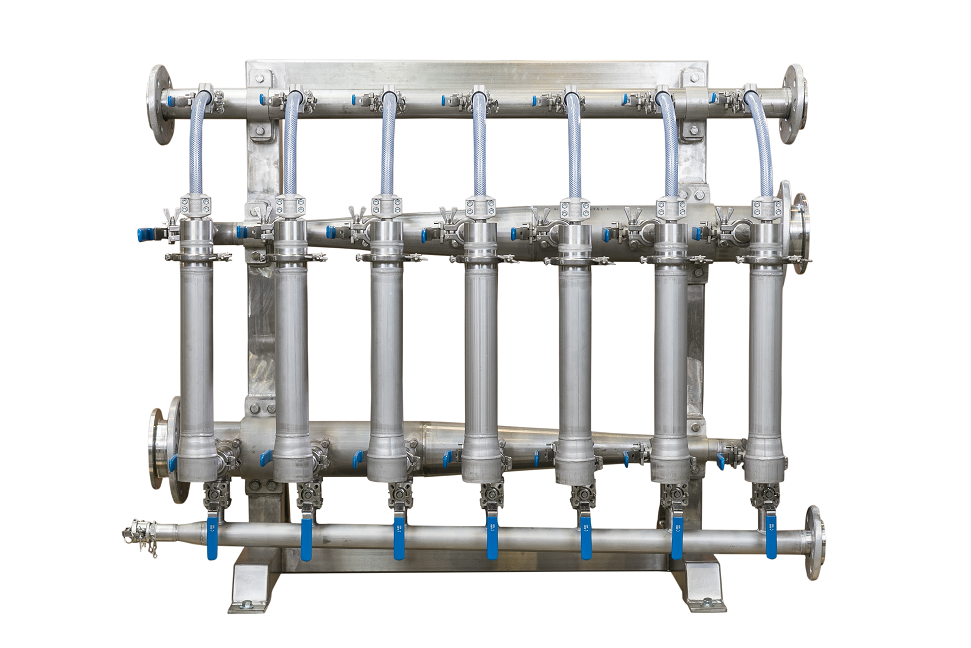 GAW Airvac
The GAW Airvac is a vacuum deaerator used for deaerating media, dispersions, emulsions and coating colours.
It removes air from the coating compound and enables a bubble-free coating application on the paper. Specially developed for the needs of the paper and board industry, the GAW Airvac combines all the common basic deaeration methods.
The vacuum deaerator consists of the main components vacuum container, motor, coating colour distribution system and centrifugal discs. The medium to be deaerated is distributed in parallel via three separate connections on the rotating centrifugal discs. These throw the coating colour radially against a double wall system, where it drains off and is collected in the container bottom.
In this process, fine drops of paint are formed, which favour the deaeration. Negative pressure in the vacuum container causes the air bubbles contained in the paint droplets to expand and burst. The released air is extracted by the vacuum system. The vacuum deaerator is a basic part of the working stations for curtain coater applications. If the bubble-free quantity of coating colours required on the coating unit exceeds the nominal colour flow rate of the deaerator, several deaerators are interconnected.